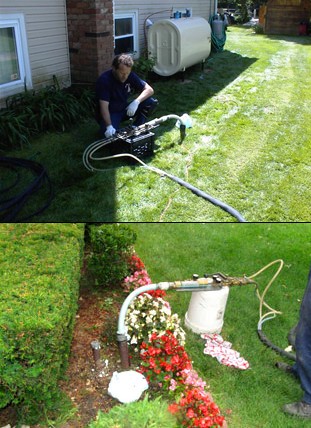 Frank Rymer, Owner of Above All Heating, seen in the picture above is performing a Foam Tank Abandonment
Oil tank abandonment service is a critically important technique for the homeowners of Long Island in Suffolk County. Many years ago, some builders and homeowners felt it was more desirable to bury their home heating oil tanks underground; however, many tanks have rusted and rotted through, causing their contents to leak into the ground water.
Above All Heating, Inc. does NOT subcontract out abandonment jobs and tank installs. All of the work is done by the owner of the company. It has been proposed that in the not-so-distant future, any homeowner with an in-ground oil tank may be required to go through the expense and property damage to have it excavated and replaced with an aboveground tank. However, thanks to foam abandonment, there is a way to avoid the expense and property damage of tank excavation through the use of tri-polymer foam which is legally designed to completely and permanently fill any existing in-ground oil tank. Though there is some talk this technique has the chance of eventually not being an approved method in future years, it WILL be legally grandfathered into the laws for those who have already done so.
Above All Heating, Inc. can provide this valuable tank abandonment service to any homeowner with an underground fuel tank who lives in Suffolk County. It is best to conduct the foam abandonment process when the weather is warm (i.e. the months of April through September). Please feel free to contact our family owned and operated business at (631) 447-8234 to learn more about the tank abandonment process from our knowledgeable and courteous office staff.
Don't let this happen to your property!